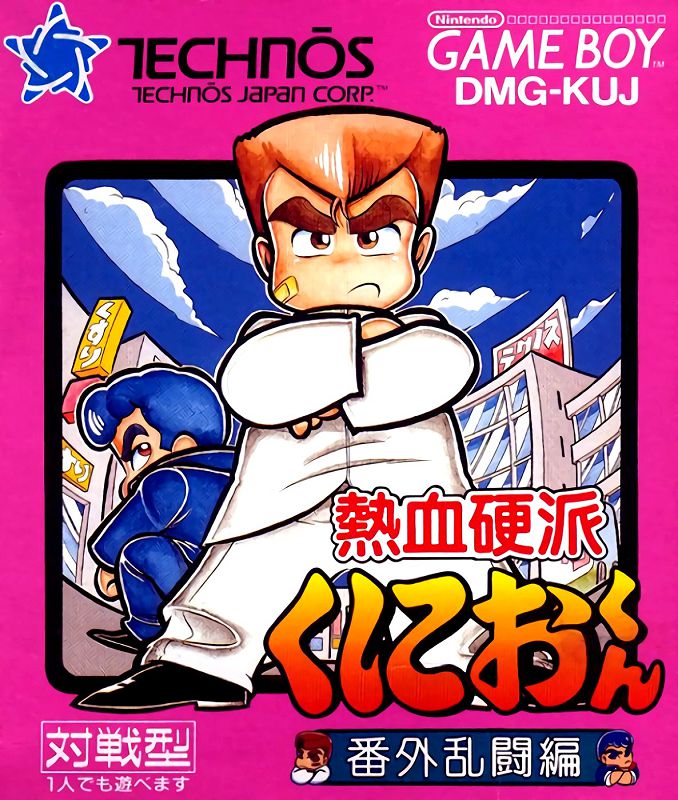 Console : GameBoy
Language :

Genre : Beat'em all
Multiplayer : 2 players
Year : 1990
Developer : Acclaim
Publisher : Technos
A GameBoy sequel to the Nekketsu Kouha Kunio-Kun beat'em up series. The story this time is that a newly established, yakuza-backed factory enforces a nefarious grip on Kunio's town. People that try to do anything about it disappear and gangs rule the streets, but when the main baddass Yuji kidnaps beautiful Miho from Nekketsu high the line is crossed. Now Kunio (with the optional help of his pal Riki in 2 player gameplay) heads to the factory across town to get Miho back and provide a sound beating to Yuji and anyone that gets in the way.

Gameplay is standard 2D beat'em up fare, in which you must clear side-scrolling stages by defeating all enemies you encounter and getting to the stage exit, usually after taking out a stronger boss enemy. Kunio and Riki can execute a variety of punches and kicks using button combinations. The game features the same super deformed "cute" character design familiar to the series and retains most of the same attacks and moves although unlike other Nekketsu Kouha Kunio-Kun games in which pressing both attack buttons makes your character jump, in this one an uppercut is added for extra gang-smashing power.
Further information :
Translation version 1.0

Thanks to Kazan for this translation.

Game files

Nekketsu Kouha Kunio-kun - Bangai Rantou Hen 2018/05/28 63.73KB

There are no images in this album yet
---
User Feedback