Kurohyou: Ryu ga Gotoku Shinshou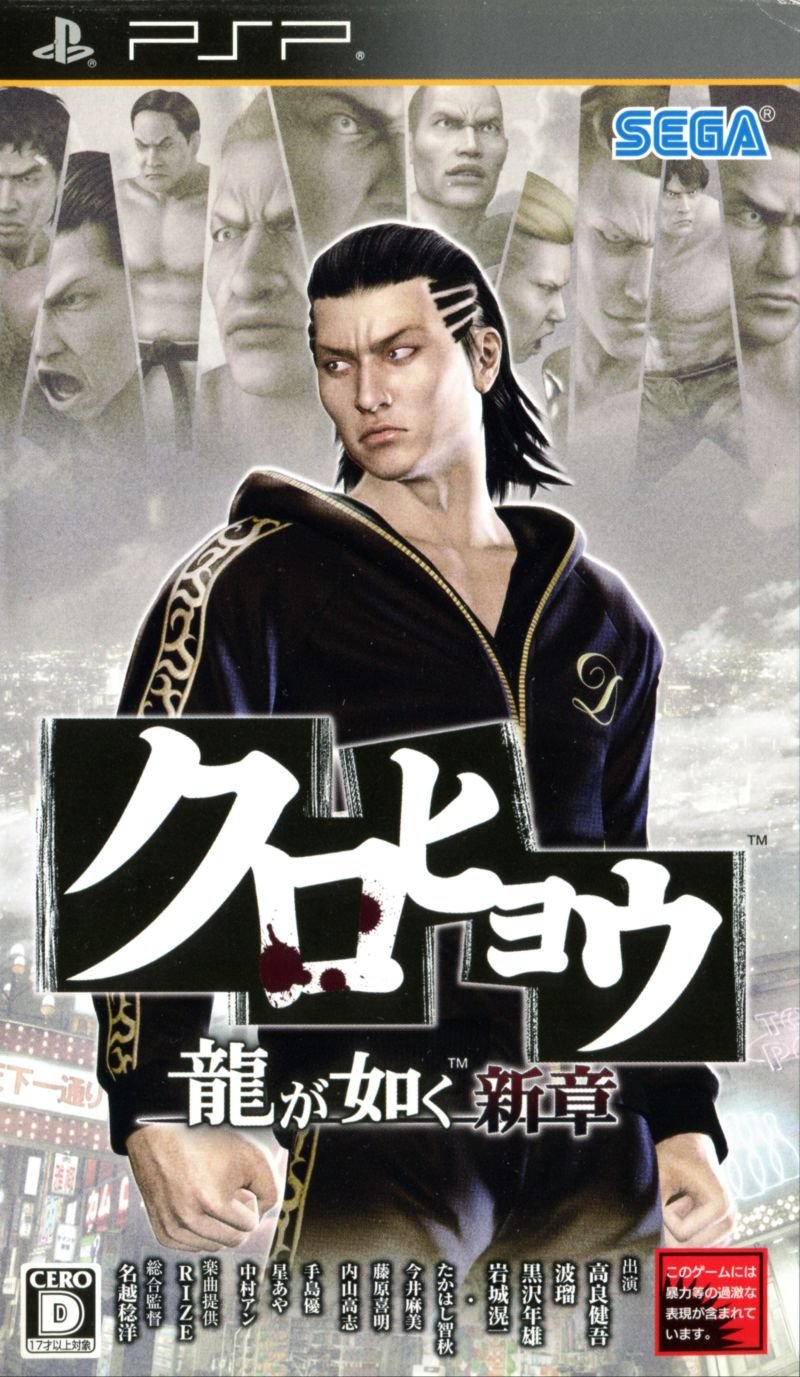 Console : Playstation Portable
Language :

Multiplayer : 4 players
Year : 2010
Developer : syn Sophia
Publisher : Sega
Weekly games : 7

As the title implies, Kurohyou (a.k.a. Black Panther) is the new chapter in the Ryū ga Gotoku series which are on the western globe known as Yakuza series. Similar to other spin-offs from the canon series, Kurohyou games are also exclusive to Japanese market and PSP platform. The story follows Tatsuya Ukyou (右京龍也), a high-school dropout who's been framed for an assault which leads him to a world of violence and intrigues, as the new protagonist.
The game takes place in the known setting of Kamurocho from Yakuza series and player is free to explore the open world sandbox in a similar manner, from fighting the hoodlums on the streets to visiting various stores and buying food and items, playing various mini-games like UFO catcher or cards, taking on a few sports like bowling or baseball batting, going to a karaoke bar or trying your luck at wooing ladies. Aside from the main story there are dozens of sub-stories and quests that can be taken on at any time while exploring the town. The game relies on 2D hand-drawn cut-scenes to tell the main story.
Tatsuya believes the power is all, and on his adventure he'll strive to show he can be better than anyone he comes across, and he'll let his fists do the talking rather than using words. As such, the game features many different fighting styles Tatsuya can develop and upgrade through the course of the game. Different attack will automatically be performed based on whether the player is using karate, pro-wrestling, boxing, or simply resorting to street fighting style. The game also features multiplayer fighting with up to 4 players using ad-hoc mode with three different battle modes. For multiplayer battles players can edit their team and characters prior to entering the fighting arena.
Further information :
Translation team:

-Aegehn (Initiator, coding)
-FShadow (Translation, graphics)
-KHHSubs Translation, graphics)
-FlyingClimber (Translation)

A huge thanks to them.

https://gbatemp.net/threads/kurohyo-ryu-ga-gotoku-shinsho-yakuza-black-panther-translation-project.371411/

There are no images in this album yet
---
User Feedback