Iga Ninden Gaiou
Downloads
Iga Ninden Gaiou 2018/01/27 473.00MB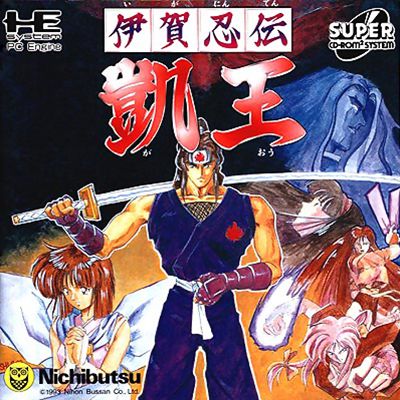 Console : PC Engine CD
Language :

Genre : Action
Multiplayer : 1 player
Year : 1993
Developer : Cream
Publisher : Nihon Bussan
During the Edo period in Japan, the ninja clans from Iga and Kōga were fighting each other. A mysterious foreigner named Doppelgen Hauser, aided by the Kōga ninjas, kidnapped princess Mayura. An Iga ninja named Hattori Gaō swore to catch up with the criminal and rescue the princess, but the ninjas from the Kōga clan will do anything in their power to stop him.

Iga Ninden Gaō is a side-scrolling action game very loosely based on historical events, with plenty of anachronisms and supernatural elements. Gaō mostly uses his sword to defeat enemies; he can also jump and attack in mid-air. Sometimes it is necessary to jump over bottomless pits or other obstacles to advance. Pressing down the attack button will charge a special meter that will allow Gaō to throw knives at enemies. In addition, Gaō possesses special powerful all-screen attacks that come in limited quantities. Enemies may drop charges for such attacks, health-restoring items, and other power-ups. Stages usually culminate with boss battles, after which the hero gains access to new weapons and armor.
There are no images in this album yet
---
User Feedback