Harry Potter Collection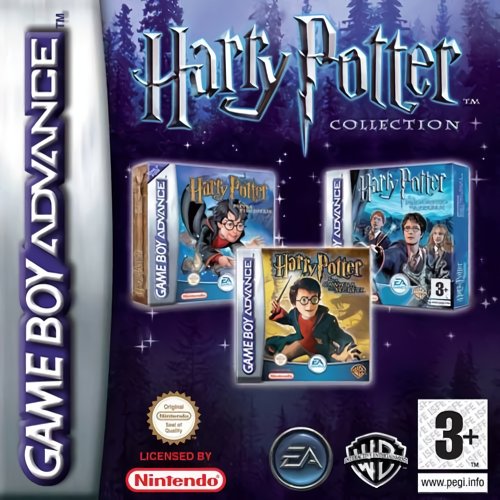 Console : Gameboy Advance
Genre : Compilation - Action - Adventure - RPG
Multiplayer : 1 player
Year : 2007
Developer : 1bit Garden
Publisher : Electronic Arts
Weekly games : 24

Harry Potter Collection is a GBA compilation game that bundles 3 installments in the Harry Potter series: Harry Potter and the Sorcerer's Stone, Harry Potter and the Chamber of Secrets, Harry Potter and the Prisoner of Azkaban.
Harry Potter and the Sorcerer's Stone: The first Harry Potter game for the Game Boy Advance is an action adventure that lets you play as Harry in his first year at Hogwarts School of Witchcraft and Wizardry, following the story of the book and the movie. You control Harry from an overhead view and must complete several tasks. These range from mundane class assignments like collecting ingredients for a potion to facing off against a giant troll. To master these challenges, Harry can learn five spells that allow him to push back opponents, flip switches, open doors, levitate objects and more. If Harry is hurt, he can find and eat Bertie Bott's Every Flavor Beans to regain health. By performing admirably in learning spells and completing missions, Harry can gain extra House Points so that Gryffindor might win the House Cup. If he misbehaves by attacking other students, or being caught wandering the halls at night, points will be deducted, however. As seeker for the Gryffindor team, Harry must also compete in Quidditch matches. The game has a special mode for Quidditch and other events where Harry might have to mount his broom.
Harry Potter and the Chamber of Secrets: The game for Game Boy Advance based on the second Harry Potter book and movie is, like its predecessor, an action adventure, this time with an isometric perspective. In Harry's second year at Hogwarts, bad things are happening. The ancient Chamber of Secrets has been opened, and what lurks within is attacking students. To get through this ordeal alive (and advance the plot) Harry must again complete various challenges. These mostly consist of navigating large mazes - fighting monsters, solving puzzles, flipping switches and pressing buttons for doors to open. Six spells are available to help. As Harry is often in places he shouldn't be, stealth sequences are also a large part of the game. To avoid teachers and prefects, he can sneak around slowly and hide behind curtains. If he is caught, he is thrown out (to try again) and house points can be deducted. As in other Potter games, there are a lot of collectibles, found both in plain view and in hidden areas. Sets of Famous Wizard cards unlock bonuses, Every Flavour Beans get Harry passwords that let him move through shortcuts in the school and Chocolate Frogs increase his maximum stamina. Finally, Quidditch is also back in this game, this time in three-dimensional space, viewed from the back.
Harry Potter and the Prisoner of Azkaban: Sirius Black has escaped from the prison of Azkaban and it is up to Harry, Ron and Hermione to find out why he is after Harry and what his connection to the death of Harry's parents is. The GBA version of Harry Potter and the Prisoner of Azkaban comes in form of a traditional RPG. In turn-based battles, Harry and his friends must use the right spells and items to defeat their enemies. Each character also has a few unique special attacks. Harry can perform magical attacks using the cards that can be collected throughout the game, Ron throws stink pellets and firecrackers at the enemy and Hermione can make the party's attacks more powerful. Outside of battles, you will take on quests and explore various dungeons. Inside dungeons, enemies are visible, so that it is possible to avoid combat. You will also need to use different spells to solve puzzles and clear obstacles.
There are no images in this album yet
---
User Feedback