Hajime no Ippo: Victorious Boxers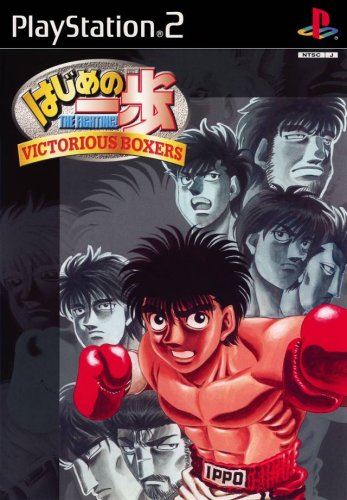 Console : Playstation 2
Language :

Multiplayer : 2 players
Year : 2000
Developer : New
Publisher : Empire Interactive
Hajime no Ippo: Victorious Boxers, known simply as Victorious Boxers in the U.S.A., is a boxing video game developed by New Corporation for the PlayStation 2 video game console and is based on the Hajime no Ippo franchise. The game was released in Japan by Entertainment Software Publishing in December 2000 and in North America and Europe by Empire Interactive in 2001.
The game features a mix of simulation and arcade-style boxing. The story mode, takes place in six linear segments that originally overlapped each other in the manga. The game's fights reflect the fights of the manga series. The beginning of the game focuses on Ippo Makunouchi's ascent to the Japanese featherweight championship, and then moves on to the careers of Ippo's sports comrades.
The versus mode has 44 playable characters:
Ichiro Miyata , Naoya Ogawa, Yusuke Oda, Toshio Fujiwara, Jazon Ozuma, Kenta Kobashi, Ryuichi Hayami, Ryo Mashiba, Takeshi Sendo, Keigo Okita, Takuma Saeki, Vorg Zangief, Eiji Date, Ponchai Chuwatana, Kazuki Sanada, Hammer Nao, Yi Yonsu, Iwao Shimabukuro, Ryuhei Sawamura, Masaru Aoki, Bull Ushida, Jakal Ito, Snake Thomas, Boy Arate, Paddy Magramo, Katsutaka Imae, Tatsuya Kimura, Shinji Kanzaki, Hiroshi Nijimura, Takeshi Ryuzaki, Porn Morocotte, Nefma Ozca, Mamoru Takamura, Atsushi Tamaoki, Bear, Takaaki Ito, Morris West, Brian Hawk, Ginpachi Nekota, Genji Kamogawa, Ralph Anderson, Ippo Makunouchi, Ippo makunouchi (Boxer's outfit)
Victorious Boxers has received "generally favorable reviews", the visual style being poorly received, but its precision in boxing being praised. It was a commercial success in Japan, but did poorly in North America.
Further information :
PCSX2 version 1.6.0 is not compatible with the game.

There are no images in this album yet
---
User Feedback