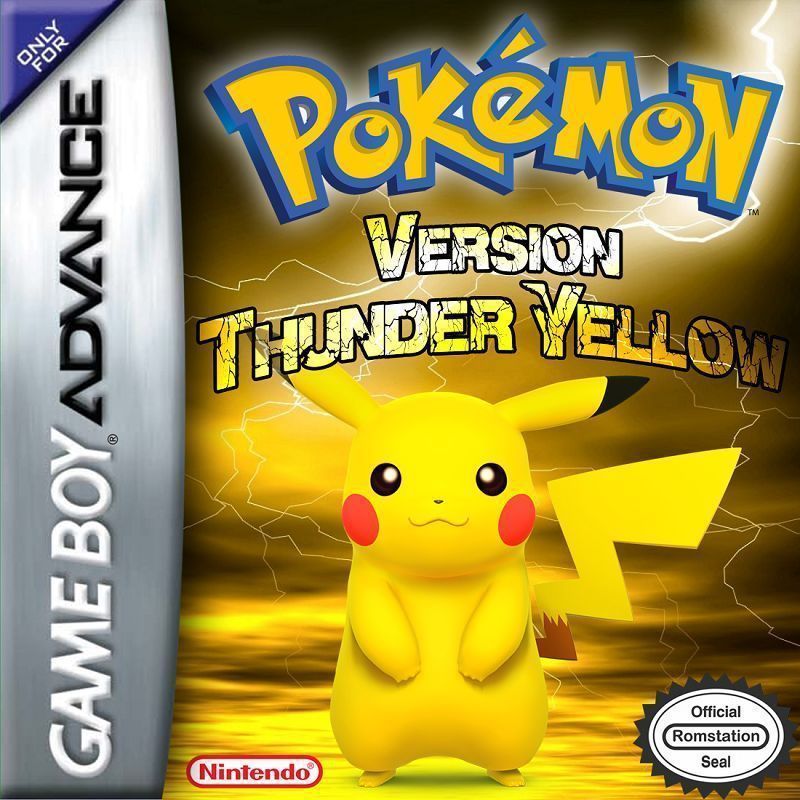 Genre : RPG
Multiplayer : 1 player
Year : 2014
Developer : Undi & Gaddin
Weekly games : 216

Introducing "Pokémon Thunder Yellow", a remake of Pokémon Yellow Version with quite a few new features.
FEATURES:
- New clean title screen!
- Capture of Pikachu by Prof.Chen.
- Unique Pikachu! With the design of Thunder Yellow V1!
- Same trainers as in POKÉMON YELLOW VERSION!
- The same wild Pokémon as in POKÉMON YELLOW VERSION!
- Only the 151 basic Pokémon before the league.
- Electhor, Artikodin, Sulfura, Mewtwo, Mew, Lugia, Ho-oh, Entei, Suicune, Raikou and Celebi available!
- The three starters, Bulbizarre, Salamèche and Carapuce available where they were on POKÉMON YELLOW VERSION!
- Pokémon that can't normally be caught in the YELLOW VERSION will be offered (e.g. ASPICOT), so you can fill up your Pokédex, so talk to everyone!
- Our hero trades in his dark red for bright yellow!
- The rival has an EVOLI!
- Starting script redone to allow the rival to take his starter!
- Sprite of the YELLOW VERSION refurbished.
- ... (And more !).
KNOWN BUG TO DATE :
- The title screen doesn't show on GBA linkers and 3DS IACs.
Further information :
For more information about the game, we invite you to join the dev Undi's topic: http://urlz.fr/60hj

In case of bug, please report it on the following link : https://goo.gl/forms/hjT33ACDPIBu5bSS2

Pokémon Thunder Yellow Version (1.0) r12:

- Big correction on the level of the orthography a little everywhere.
- Big correction on a lot of surfing area (possibility to go out of the surfable area)
- Many invisible walls corrected
- Correction of some tilesets
- Fixed the swimmer who was stuck in the wall
- Fixed the moveset of MEGA-EVOLUTION, Fireball and Mewtwo were not learning their attacks but those of other pokémon
- Tygnon was not supposed to be in the HOENN reserve area, Tylton has taken his place
- Removal of the card in the Pokémon Center of Griotte City that was crashing the game
- Corrected some empty signs
- Corrected the whole of Silver Mountain
- Added Deoxys on Challenge Island
- Added two trainers to the Challenge Tower

Concerning the Red and Blue sprites patch :

- Onix and Grodoudou sprites corrected in the Red and Blue sprite patch.
- The sprite "?" has been changed to Missingno. in the Red and Blue sprite patch.

Cheat code to meet Missingno. in the patch Red and Blue sprites [Gameshark] :
F073A2AF 081049FA
AD00024F 280008DA

or

13A73529 AF1AE432
AD00024F 280008DA


If your game freezes on a white screen at startup or you can't save from the game, go to 'Options>Emulator>Save Type' and select Flash 128K instead of Flash 64K.

Savegame recovery (VisualBoy Advance):
From the old version: Press Ctrl+S to create the backup in a folder (if not already done).
From the new version: Press Ctrl+L to load the previously created backup.

A big thank you to Undi, the dev of the game who accepted to share his project and to let our community discover its content.

There are no images in this album yet
In the same series
User Feedback