Ganbare Goemon 2: Kiteretsu Shougun Magginesu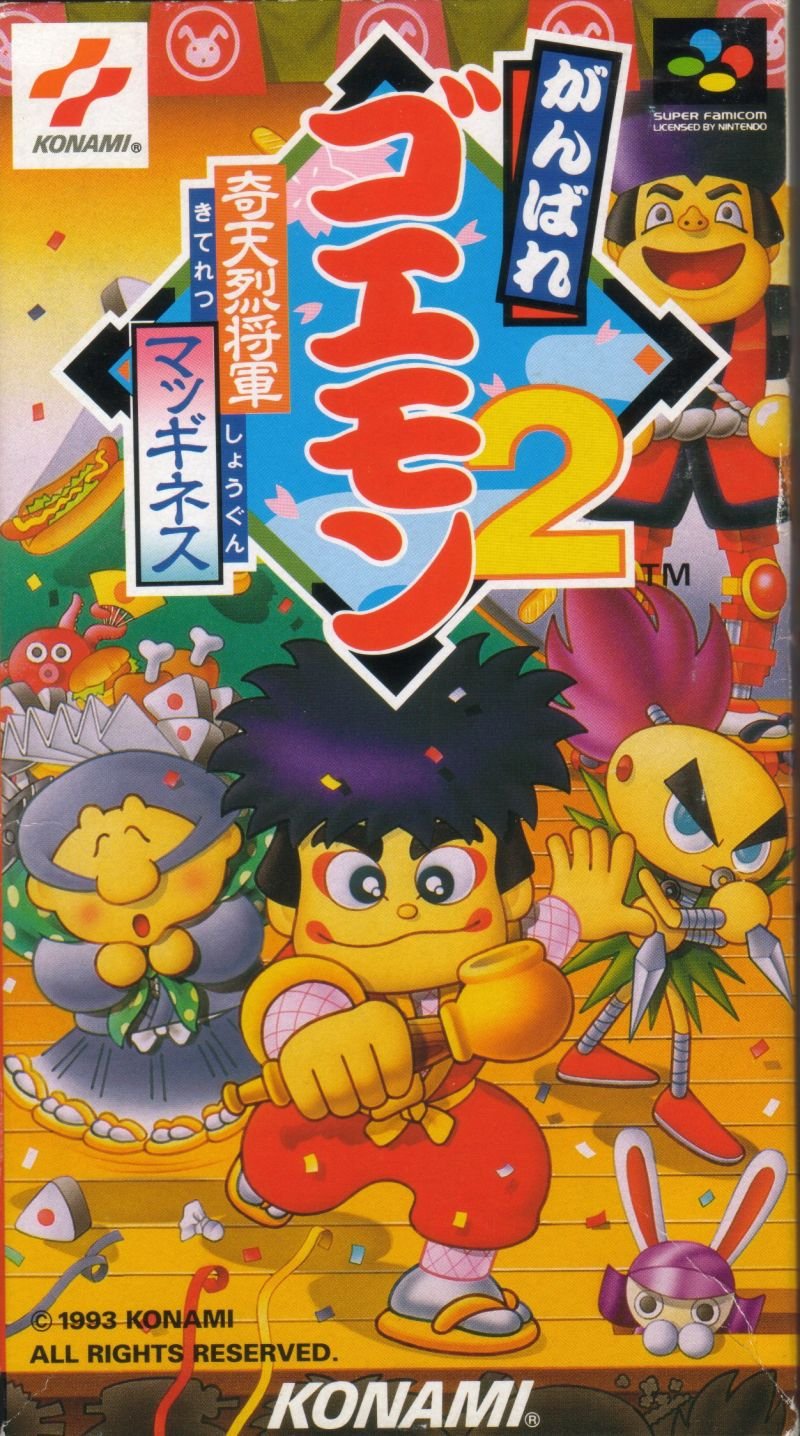 Console : Super Nintendo
Language :

Genre : Action - Platformer
Multiplayer : 2 players
Year : 1993
Developer : Konami
Publisher : Konami
Weekly games : 8

As you may have guessed from the number 2 in the title, this is the second SNES game in the popular blend of the adventure and jump and run genres which is the Goemon series. Again, you (and your partner, in 2 player mode) control Goemon, his friend Ebisu-Maru and, new to the bunch, robot Sasuke, through loads of action stages and villages. Another new feature comes with 3D boss fights, featuring the giant mech type robot called "Goemon Impact".
After rescuing Princess Yuki and saving Edo, Goemon and Ebisumaru decided to take a vacation at the Ryūkyū Resort when suddenly Sasuke appears and tells them that Japan is being threatened by the Western general McGuiness, who along with his army of bunny men, tries to westernize Japan. Goemon, Ebisumaru and Sasuke head to bunny castle to stop McGuiness. As the trio chase him and his bunny men around japan, McGuiness schemes a plan where he kidnaps several non-playable characters.
Ganbare Goemon 2 uses an overworld map similar to that of Super Mario World, where the levels are arranged in a set order of worlds, each of them containing normal stages, towns, castles and giant robots. Unlike previous games, the levels can now be replayed. Like in Super Mario World, there are several areas that had to be unlocked by accessing alternate routes. The characters' common moves are moving, crawling, jumping and attacking. There are two ways to attack: either with a short-ranged weapon or with projectiles. However, using projectiles consumes coins.
Further information :
Complete French translation (v1.0) made by FlashPV (from Terminus Traduction; new hacking and translation), DDSTranslation (original hacking, tools and assembly) and Tom (original translation).

There are no images in this album yet
---
User Feedback