Epidemic!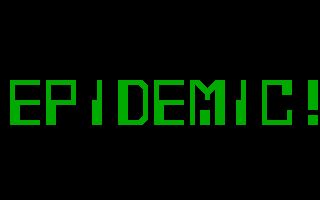 Console : DOS
Language :

Genre : Simulation - Strategy
Multiplayer : 1 player
Year : 1983
Developer : Steven Faber
Publisher : Strategic Simulations, Inc.
It's 1989, and there's good news and bad news. The good news: there's a spectacular meteor shower scheduled to light up the sky. The bad news: the meteoroids are bearing a rather deadly, virulent disease -- when they impact our planet, things might get ugly. It's up to you to contain the infection, and prevent mankind from getting its own museum display case, next to the dinosaurs.

Your stint as head of the Global Disease Control Center lasts from 15 to 30 game turns (depending on the chosen skill level). One turn represents a day, and allows a limited number of actions: you'll be able to monitor approaching meteorites on the radar, target them with missiles before they hit, and enact emergency measures throughout the Earth's fourteen regions to curb the spread of the contagion. Disease statistics are updated on the world map on each turn, and various remedies can be deployed, ranging from vaccination, irradiation and body suits to genetic engineering, firestorms, and that perennial last resort... the nuke.
---
User Feedback