Eien no Filena
2
Download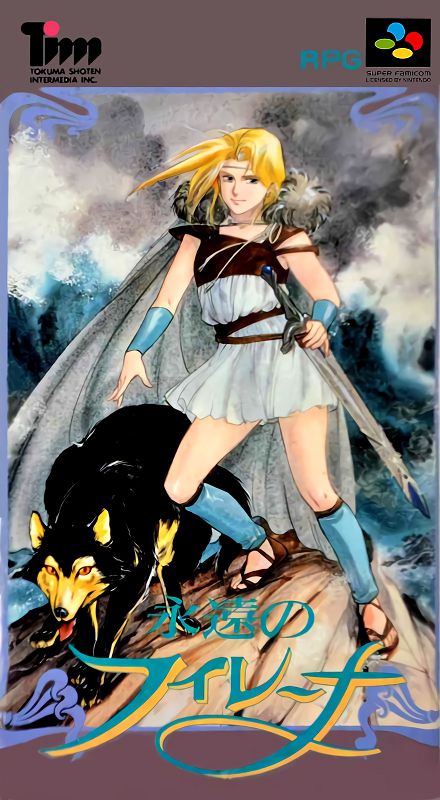 Console : Super Nintendo
Language :

Genre : RPG
Multiplayer : 1 player
Year : 1995
Developer : Tokuma Shoten
Publisher : Tokuma Shoten
Popularity : 11

A role-playing video game based on the series was first released on the Super Famicom in 1995 exclusive to Japan. The game was developed and published by Tokuma Shoten. Eternal Filena was released late into the Super Famicom's life, but despite this it had somewhat dated graphics that were reminiscent of Final Fantasy V and a battle system similar to Final Fantasy Mystic Quest.
The game's story begins with Filena, a girl raised as a boy by her grandfather Zenna. Filena is raised as a boy because the Empire ruling the country forces girls into prostitution and turns boys into gladiators. After turning 16 Filena prepares to make her debut in the imperial coliseum, however before the battle she and her fellow gladiators are assigned concubines. Filena ignores her assigned bedmate, Lila, but Lila forces her way into Filena's room and learns the truth about her gender. Filena later fights through the gladiator ranks and discovers that their battles to the death are all scripted by behind-the-scenes writers. Filena then sets off with Lila on a quest to bring down an empire and reclaim her rightful place in a lost kingdom.
The gameplay is typical of role-playing video games of its time, using a turn-based battle system with random encounters with monsters to gain experience and level up. Characters can equip up to three weapons and switch between them. Weapons have different abilities and a character can perform a technique at the cost of ability points.
Further information :
Translation version 1.3

(Many misspellings and forgotten accents were corrected, as well as the "welcome" of the sellers who bugged completely)
Translation team:

- Bahabulle
- GreatSkaori
- Happexamendios
- PinkTagada
- Rid
- Ti Dragon

Thanks to them.

There are no images in this album yet
---
User Feedback