Doomdark's Revenge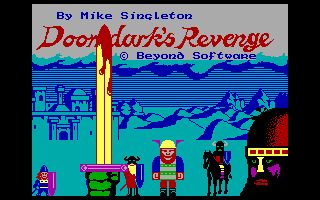 Console : DOS
Language :

Multiplayer : 1 player
Year : 1995
Developer : Beyond Software, Inc.
Publisher : Domark Software Ltd.
A PC Conversion of the 1985 game.

The follow-up to the original Lords of Midnight game uses a similar game system to its predecessor, but the story is now much more complex. Luxor the Moonprince's son Morkin has been kidnapped by Shareth, daughter of Doomdark, the evil ruler deposed in the first game. The player initially takes control of Luxor, Rothron the Wise, and Morkin's lover Tarithel the Fey, although many more characters can be recruited as the game progresses, as they aim to banish Shareth and rescue Morkin. Shareth has brainwashed him, so he must also be turned back to Luxor's side.

The game is effectively turn-based; your characters move by day (with a limited amount of movement possible, with each move in one of the 8 compass directions) and Shareth's by night. You will find plains, mountains, forests, underground tunnels and mysterious temples on your journey. A dark mist follows much of the area, which causes your characters to deteriorate in mood and thus become less effective.
---
User Feedback