Detana Twinbee Yahoo! Deluxe Pack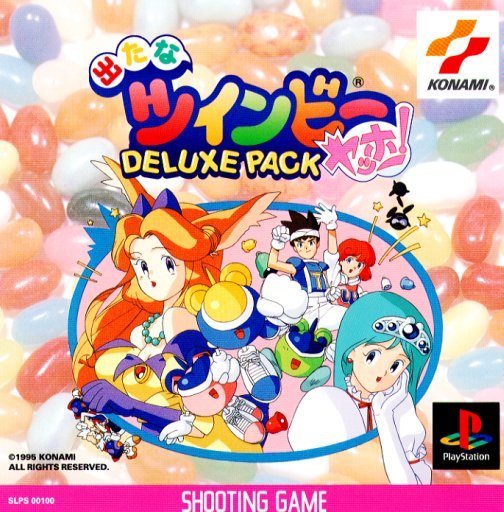 Console : Playstation
Language :

Genre : Shoot'em up
Multiplayer : 2 players
Year : 1995
Developer : Konami
Publisher : Konami
Weekly games : 3

For those who are not in the know, the Twin Bee series follows the adventures of two kids named Light and Pastel. They are the brave pilots of Twin Bee and Win Bee - two ultra cute robot ships with minds of their own. Under the guidance of the wise scientist Dr. Cinnamon (who created the two robots), these kids board their robots, taking to the skies to battle the forces of evil, who are usually under the control of Dr. Cinnamon's long-time nemesis, Dr. Warumon.

The Twin Bee games are usually overhead view shooters where you scroll vertically up a screen, shooting at anything that gets in your path. The graphics are always extremely bright and colorful, with a large emphasis on bizarre humor, much like Konami's Parodius series. (Another classic shooter series that has never seen the light of day over here.)

In 1995, Konami was gearing up to celebrate the series' 10th anniversary. In order to commemorate this occasion, they released the Twin Bee Deluxe Pack for the Saturn and Playstation.

The compilation include:
- Detana! Twinbee (an arcade shooter released in 1991, and even got a very limited release over here under the title ''Bells and Whistles''), and Twin Bee Yahoo!, which had been released in Japanese arcades a few months before this disc came out.

- Twinbee Yahoo:
Twin Bee Yahoo! is already a better game than its predecessor, as it features an actual story that unfolds during the course of the game.

This time our two heroes, Light and Pastel, are joined by Mint, a young kid who pilots the green robot, Gwin Bee. They are stuck in a clash to rescue the beautiful Princess Melody, who has been captured by the evil Lord Nonsense, who wants to take over her kingdom. Light, Pastel and Mint are aided by Ace, a soldier who originally helped in capturing the Princess, but when he realized that Nonsense was working for the evil Dr. Warumon (long-time Twin Bee nemesis), he changed his ways, and now wants to help our heroes rescue her.

This story is told through anime-style intermissions in-between the levels, and a vast amount of voiced dialogue during said intermissions and even during the levels themselves.
There are no images in this album yet
---
User Feedback