Daytona USA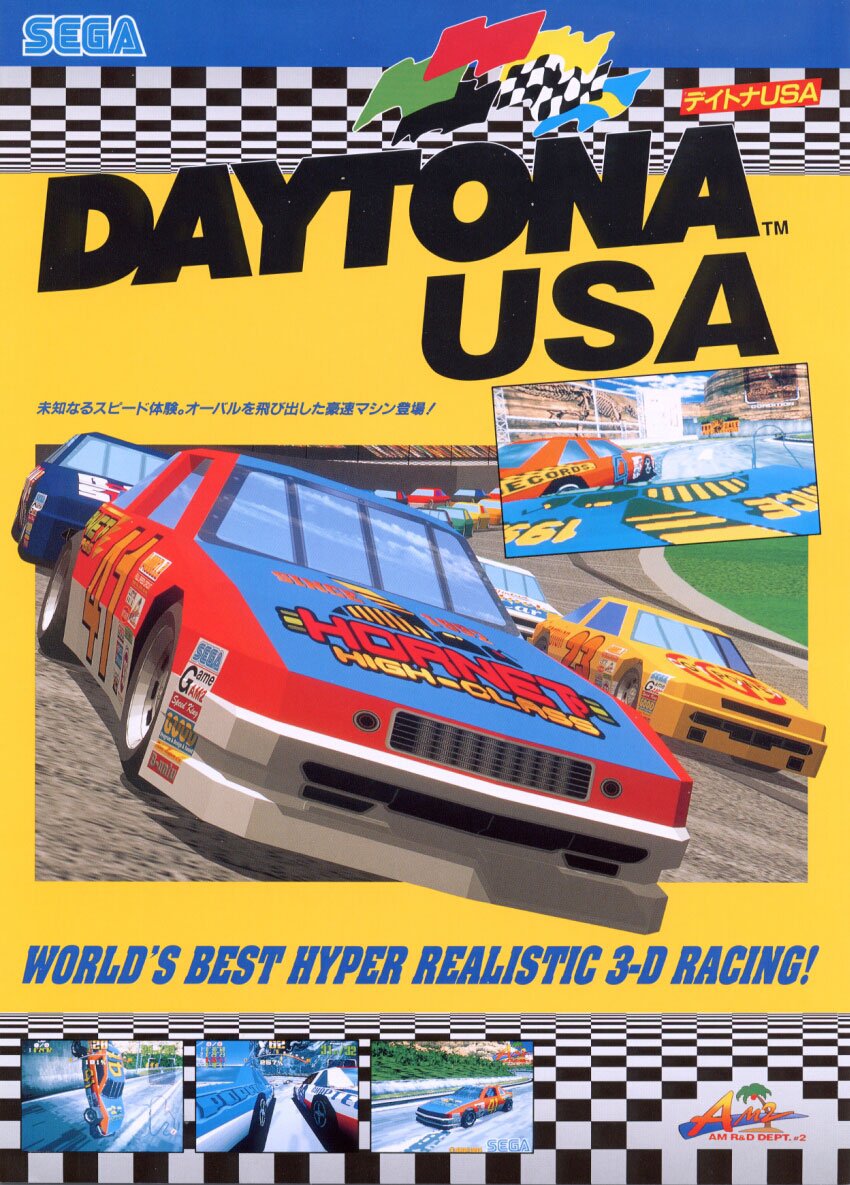 Console : Model 2
Language :

Multiplayer : 8 players
Year : 1994
Developer : Sega AM2
Publisher : Sega
Weekly games : 7

Daytona USA is a Sega Model 2 arcade racing game developed by Sega AM2. It was initially given a limited release in Japan in 1993 to gauge public reaction to the new model hardware before its full, international release the following March.
It is loosely based on the NASCAR racing event at the Daytona International Speedway, located in real life in Daytona Beach, Florida in the United States of America. Daytona USA and all of its sequels and rereleases (except Sega Racing Classic, in which case someone else already held the arcade license) have been officially sponsored by the International Speedway Corporation.
The original arcade release has the player drive a stock car, known as the "Hornet" (number 41, producer Toshihiro Nagoshi's "lucky number") loosely based on a Chevrolet Beretta, racing against numerous other cars around three selectable tracks. Player one's car by default is coloured red and blue (the manual car uses a red, black and yellow colour scheme), and can be seen at the forefront of all game covers, flyers and similar media related to the series with the exception of Daytona USA 2 and its update, Daytona USA 2: Power Edition.
The game features both automatic and manual transmissions, the latter requiring use of the gear stick and which, if used properly, can lead to a faster car than the automatic. Crashing into walls or other cars can inflict damage leading to poor performance - to remedy this each level has a pit lane, which, by sacrificing some time, can fix the car.
Daytona USA has smarter AI than many other driving games from around this period. The computer analyses the player's skill during the first lap, and will instruct rival cars to move out of the way if it feels the player is doing poorly (while doing the opposite if the player registers a fast time). Most notably, however, is Daytona USA's multiplayer features. It was the first arcade game ever to allow up to eight cabinets to be linked together, with each player capable of competing in the same race. Each player assumes the roll of a different coloured Hornet, and each cabinet must be ready to race and agreed on a course before this can happen (otherwise the game may start up with less than eight players).
The game also has Team Hornet inform the player of turns and traffic, and will comment on your driving if you crash. Most of the rival teams in the game are not named, however several adopt the logos or colour schemes of Japanese car magazines, which in return wrote articles about Daytona USA
There are no images in this album yet
---
User Feedback