Daffy Duck in Hollywood
Downloads
Daffy Duck in Hollywood 2010/11/05 309.67KB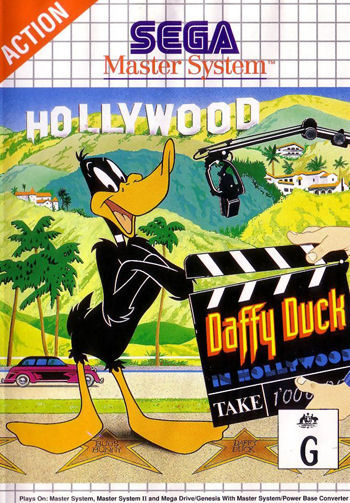 Console : Master System
Genre : Platformer
Multiplayer : 1 player
Year : 1994
Developer : Probe
Publisher : Probe - Sega
Weekly games : 2

The Looney Tunes platformer Daffy Duck in Hollywood received a unique version for Sega's 8-bit systems. While similar in story, concept and themes to the Mega Drive version, the 8-bit version has unique level designs and also several differences in gameplay.
Players control Daffy Duck, who is hired to reacquire Yosemite Sam's Golden Cartoon Movie Awards, stolen by the nefarious Doctor Duck Brain. Daffy has to make his way through six different worlds of three levels each. Each world is based on a movie genre including western, horror, adventure, sci-fi and more. At the beginning of the game, the six levels of the first two worlds can be selected in any order. Completing all six unlocks the levels of the next two worlds.
Each level consists of several sections. The entry to the next section only opens once Daffy has dispatched a number of enemies in the current section. To to so, Daffy is armed with a bubble gun. Shooting bubbles at enemies makes most of them float away, some however are invulnerable and must be avoided. Daffy can upgrade his gun via bubble power-ups, making it shoot faster, in different patterns or with more power. Also available are magic wand power-ups which summon a "fairy duck mother", preventing Daffy from losing a life by absorbing the next hit - otherwise, each hit is instantly fatal. Golden clipboards give continues while dollar signs, gold coins and diamonds can be collected for points. Not every level contains one of the Movie Awards, and collecting them isn't even necessary to finish the game. Yosemite Sam won't be pleased however if not all are recovered.
There are no images in this album yet
Related videos
---
User Feedback