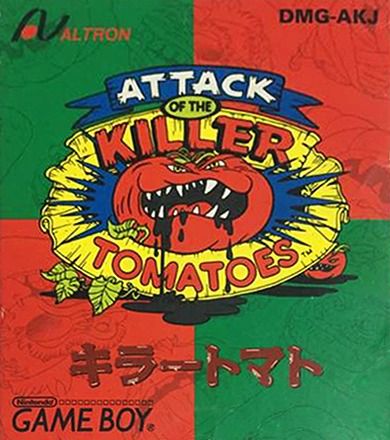 Console : GameBoy
Language :

Genre : Platformer
Multiplayer : 1 player
Year : 1993
Developer : Equilibrium
Publisher : THQ
Attack of the Killer Tomatoes is a standard platformer based on the cartoon series of the same name (which itself is based on a movie series). The hero Wilbur Finletter has to travel through eleven side-scrolling levels in order to stop the evil Doctor Gangrene who runs over the town with his killer tomatoes.

Basically Finletter moves through the levels, jumps over gaps and avoids the enemies because they have the ability to drain his life energy by touch. Losing enough energy causes the loss of a life. However, he is not defenceless as he can use a kick against the tomatoes. Additionally he can find swords in the levels which can be thrown. Other things to find are lightning bolts (invulnerability for a short time), parachutes and general point suppliers. Finletter also has the ability to use a skateboard. The goal of each level is to find the hidden tomato can and the level end within the time limit. In three instances, there is also a boss fight.
Game files
Attack Of The Killer Tomatoes 2019/05/06 73.27KB
There are no images in this album yet
---
User Feedback