Aoi Umi no Tristia Portable: Nanoca Flanka Hatsumei Koubouki
Downloads
Aoi Umi no Tristia Portable: Nanoca Flanka Hatsumei Koubouki 2019/01/09 372.13MB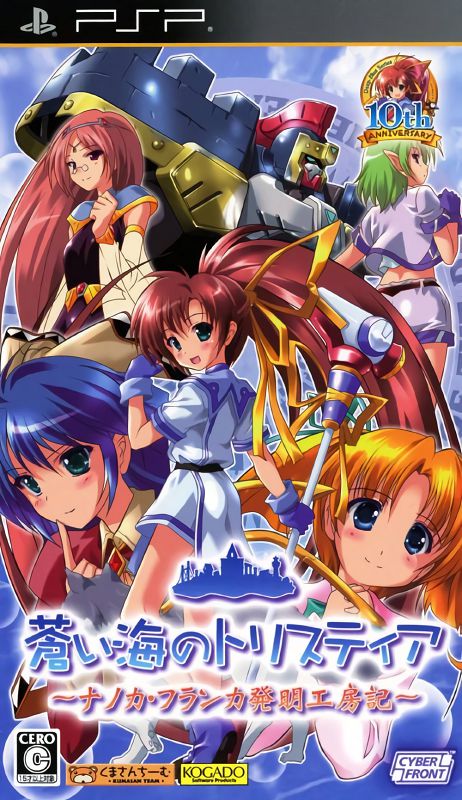 Console : Playstation Portable
Language :

Genre : Visual novel - Management
Multiplayer : 1 player
Year : 2012
Developer : CyberFront
Publisher : Cyberfront
Tristia of the Deep-Blue Sea (Japanese: Aoi Umi no Tristia Portable: Nanoca Flanka Hatsumei Koubouki) is a PS2, PSP, and PC game, developed by Kogado Studio. This game is part of the Deep-Blue series along with the sequel, Neosphere of the Deep-Blue Sky and Akatsuki no Amaneka to Aoi Kyojin. The story has been adapted into an OVA, and has been released with a title of "發明工坊" in China, Hong Kong, Taiwan, U.S.A., Russia, and Poland.
For the 10th anniversary celebration, this game was re-released on the PSP on August 9, 2012.
The opening and ending theme song of the game is "UP TO ME!!" by Sakura Nogawa, who voices the character of Nene Hampden.
Tristia of the Deep-Blue Sea is a simulation game in which the player's goal is to rebuild the city of Tristia. The player takes the role of Nanoca Flanka and must build an array of technological gadgets using schematics and various raw materials that can be encountered in-game, and sell them to people of Tristia. As new gadgets are introduced to the town, the town is able to produce a greater variety of items and gradually grows.
Tristia was a beautiful seaside town that slowly fell into ruin and dilapidation after being invaded by a dragon ten years before the start of the game. The people of the town tried in vain to rebuild the city in the hopes of restoring it to its former glory. Hopeless, the people decided to send for Prospero Flanca, a legendary inventor who was well known for reviving many dying cities. They received an answer from Prospero, but to their confusion, it was a girl who arrived at the port of the town. That girl was Nanoca, Prospero's granddaughter, and she has been assigned to manage the renovation project.
There are no images in this album yet
---
User Feedback