Amagoushi no Yakata Portable: Ichiyagi Wa, Saisho no Junan
Downloads
Amagoushi no Yakata Portable: Ichiyagi Wa, Saisho no Junan 2018/12/27 745.91MB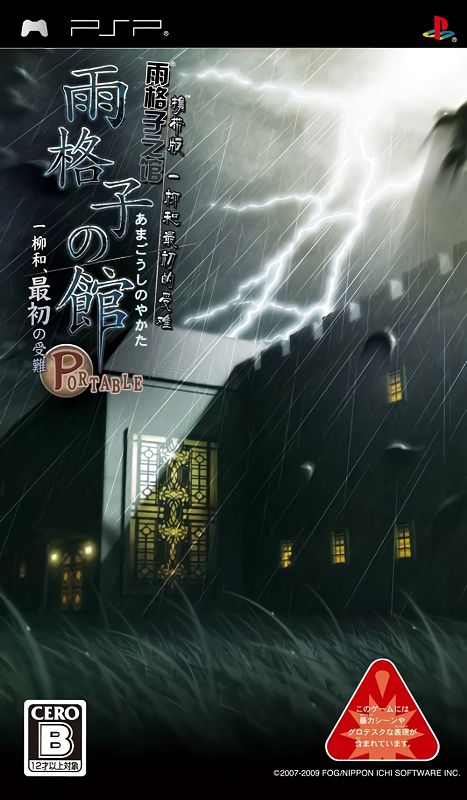 Console : Playstation Portable
Language :

Genre : Visual novel
Multiplayer : 1 player
Year : 2009
Developer : Nippon Ichi Software
Publisher : Nippon Ichi Software
This is an adventure game based on a classic detective novel. Running gasoline and lost in the mountains on a stormy night, Ichiyanagi Nagomu, a college student has no choice but to leave the car and seek help from the nearest house in Woods. However, a shock waiting for him in this dark night. He found the body of a middle-aged man lying in the rain in the backyard of the house. Without time to recover from his shock, someone sneaks up behind him and the attack.
When he awakens, he is in the company of a troupe of actors and actresses there to form new play written by the famous writer Boushiya game, and to be confused with the ninth actor, no one believed that saw Nagomu in the backyard. Because of the injuries he suffered earlier and the storm rages outside, there is no alternative for him but to stay in the mansion.
Later that night, the troupe Nagomu and discovers a message that reads "Revenge" in the green house. Then the company realized that the tires of their cars were all perforated and there is no escape route. Fear permeates the air that night, but that is only the start of their trials. The next day, one of the actors was found dead with his body arranged in a particular way.
Panic broke out when a landslide cut the mansion from the world and to be controlled by fear, the only thing the actors and actresses think is to protect themselves. This leaves the case solely on the shoulders of Nagomu being the only unrelated to the act of "revenge".
There are no images in this album yet
---
User Feedback