Akatsuki Blitzkampf Ausf. Achse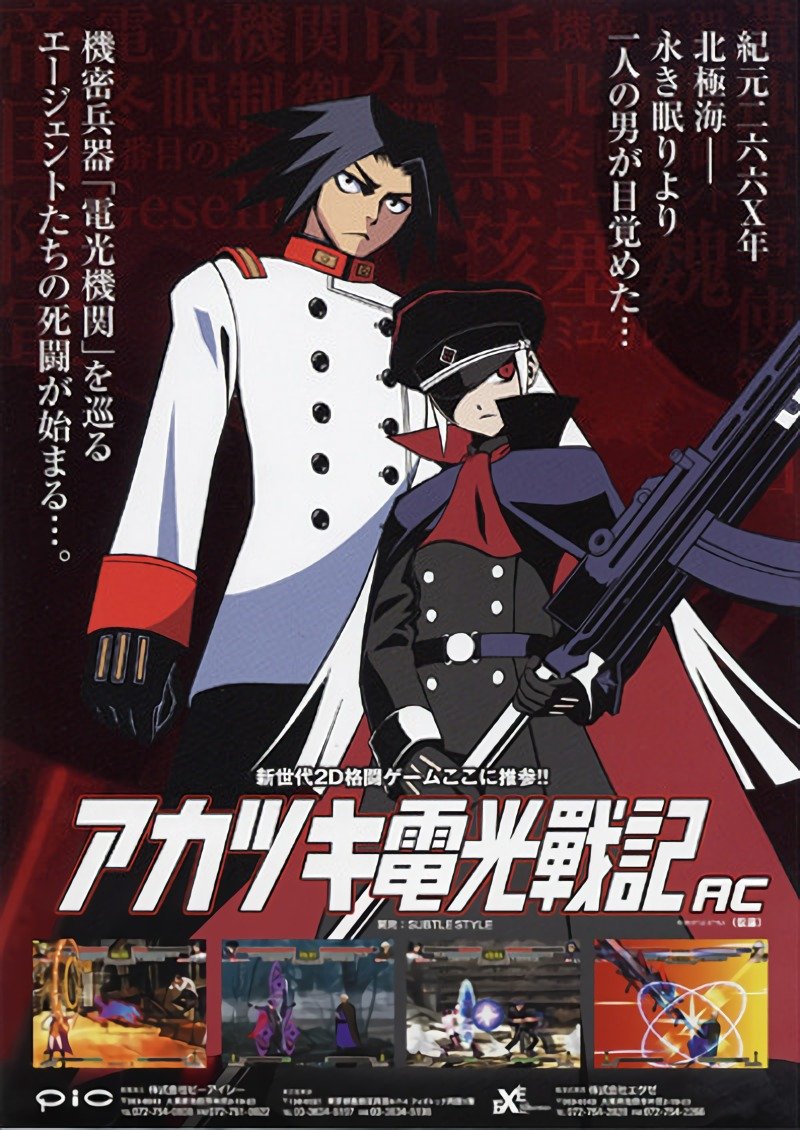 Console : Naomi
Language :

Genre : Fighting
Multiplayer : 2 players
Year : 2008
Developer : Subtle Style
Publisher : PIC
Weekly games : 11

After finding success on the Dōjin soft scene, on September 27, 2007, Arcadia Magazine confirmed that the game would be launched as an Arcade title, with the provisional name "Akatsuki Blitzkampf AC", published by SUBTLE STYLE itself. The first location test was held on November 23, 2007 at High Tech Land Sega AViON in Japan. The game was renamed as Akatsuki Blitzkampf Ausf. Achse and was improved with graphical enhancements and a new character named Perfecti. Akatsuki Blitzkampf Ausf. Achse was released in Japanese arcades on February 20, 2008 for the Sega NAOMI system and published with the help of PIC company. It re-introduces a new character known as Perfecti (Kanzensha in Japan), who was originally a mere alternate version/palette swap of Mycale.
The game is set in a fictional future of 266X, involving several characters that resemble the Nazi soldiers of the World War II era and a bit from Norse myth Asgard, among others. In-game visuals supplement this sort of specific militaristic theme and environment, portrayed by the flat and somewhat cubist character portraits and story sequence images. Blitzkampf is also a follow-up to a previous SUBTLE STYLE release from 2003 called Akatsuki Shisei Ichigō, involving many of the characters from the previous game.
In terms of Blitzkampf's play style, it is regarded as relatively "old school" in comparison to many other dōjin fighter releases such as Melty Blood, Eternal Fighter Zero, or Big Bang Beat, as many of the systems and conventions in the game are rather similar to several late 1990s fighting games created by Capcom. For example, many players allude to the parry system, which resembles the one from the Street Fighter III installments. The gratuitous number of extra modes the game provides (such as Survival, Time Attack, or SUGOROKU) and the ways that they are unlocked is largely reminiscent of a console release of an arcade fighting game, further reinforcing the semi-retro feel. In other words, the game focus is upon space control and careful footwork instead of flashy combos and intense aerial combat.
There are no images in this album yet
---
User Feedback