2 Games in 1 - Sonic Advance + Sonic Battle
Download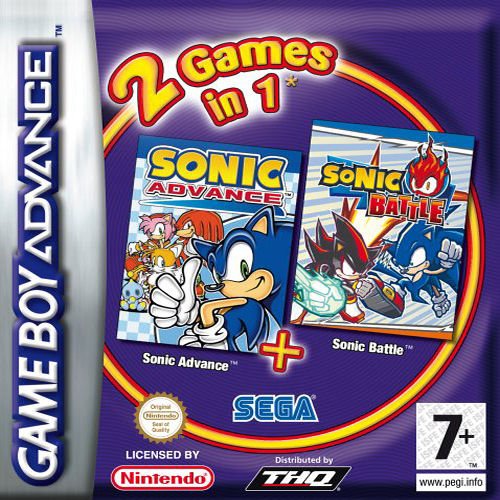 Console : Gameboy Advance
Genre : Compilation
Multiplayer : 4 players
Year : 2005
Developer : Sonic Team
Publisher : THQ
Popularity : 8

2 Games in 1 - Sonic Advance + Sonic Battle is a compilation of the Sonic Battle and Sonic Advance games:
Sonic Battle: Deep away from the basic productions of the blue hedgehog (understand plays of well speeds), Sonic Battle here sets out a succession of fights that can compete for up to 4 players, all happening in Isometric 3D arenas. Between the modes History, Battle and Challenge, you can give yourself to heart joy.
As you can see, if Sonic Battle offers players several events, all have in common this fighting spirit that will force you to fight against opponents in pseudo-3D sets. As such, the environments are moderately convincing in terms of design and technique. If we find several very different places (beach, warehouse, room of Amy, vacant ground...), we are indeed far from being amazed by the graphics of the game. In parallel, the animation of the characters is really successful and The gameplay follows the same upward curve. It is easy enough to get out of special moves and all sorts of attacks.
Sonic Advance: Here is our famous blue hedgehog, mascot essential of Sega since the origins of the firm and emblem of a generation of players, for the first time on a console belonging to his enemy of yesteryear. A page of videogame history has just been shot, and Sonic fans are now joining Mario fans on GBA to satisfy their common passion. In this context, Sonic Advance is the perfect opportunity for all the players who missed the hedgehog's speedy adventures to make up for lost time and for all others to reconnect with a playful experience that dates back to the era Blessed 16-bit consoles.
For if time has passed, the recipe has remained the same since the first episodes. Sonic, it's always paths strewn with pitfalls governed by a single law: speed. Hardly did the player make a few hesitant steps on the ground of little reassurance of the first level that it is suddenly projected in a mishmash of steep slopes at supersonic speed. The sensations are the same as a first descent in a big eight, and it is without really understanding what happens on the screen that one connects the loopings of madness and the jumps above the void. The architecture of the levels is surprisingly well thought out, with each session full of spurts and shortcuts, without forgetting the multitude of hidden bonuses that only a player knowing each level on the fingertips will be able to collect in their totality.
---
---
Retour utilisateur