2 Games in 1 - Columns Crown & ChuChu Rocket!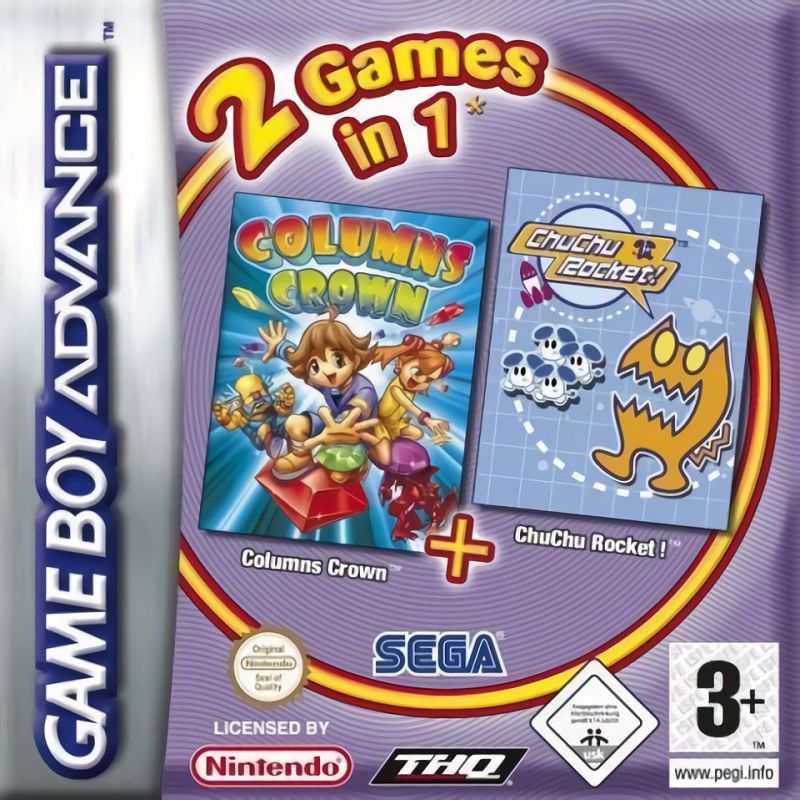 2 Games in 1: Columns Crown & ChuChu Rocket! is a compilation cartridge for the Game Boy Advance. It contains Columns Crown and the Game Boy Advance release of ChuChu Rocket!.
This game is not just the last game for the system to be Sega-related, but also the last game to be released on the system in Europe and overall.
Columns Crown: Princess Dazzle has searched all over for the missing Magic Gems that fill in the Columns Crown. You must help her recover them from a band of Forest Thieves by beating every puzzle to unlock the hidden Gems! Can you collect them all and complete the crown? Frantic multi-player action full of devastating special moves. Collect Magic Gems to unleash spectacular elemental attacks. New Survival, Versus, and Flash Columns modes.
ChuChu Rocket: ChuChu Rocket. exclusive to the Dreamcast, offers a new on-line gaming experience in the form of a 4-player, adrenaline paced puzzle game. You can enjoy this wildly addictive game with friends, in the confines of your home, or over the Internet against complete strangers! Just lead the mice to a rocket while protecting them from the vicious cats along the way. ChuChu Rocket! - the concept is simple but the challenge is never ending...
There are no images in this album yet
---
User Feedback